Wild, Wild Western
Our most popular theme in the Rocky Mountains. Guests will enter the old west thru a swinging saloon door entrance with spilt rail, cowboy silhouette and floor props such as barrels, wagon wheels, milk cans and more!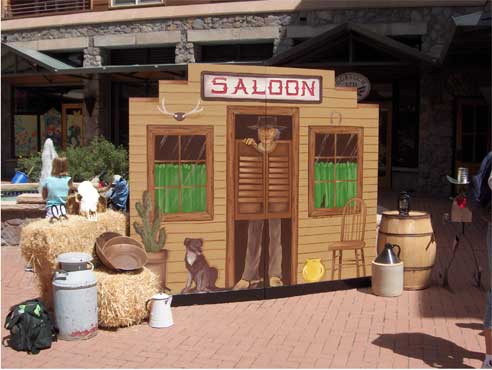 Once inside, the western town guests will enjoy our general store, saloon and jail facades with all the western touches. Our sassy saloon girls and swaggering cowboys will meet, greet and pose for photos. The trick roper invites all guests to learn the art of twirling, while other brave souls try their hand at our quick draw contest. For the real cowboys in the crowd, they can try and rope the calf from atop a horse or go for a wild ride on the mechanical bull. Guests can also venture back in time and dress up in old western gear for their Old Time Photo or sit back and listen to the Mountain Man tell stories about the way it was and enjoy all his wild critters.
Tablescapes can be draped in denim, burlap or faux cowhides with fresh florals in rustic containers that range from barn wood boxes, mason jars or cowboy hats. Add lanterns or bandanna napkins for even more flair.
With interactive touches and a great realistic decor set, create an event that gives a real taste of Colorado's colorful past.Customized Decor Packages and specific quotes are available based on size of group, hours, budget, and lead-times
Western Enhancements Options:
DJ to Country Western Solo, Duos and Bands Dance Instruction - Country Western girls and guys will demonstrate and encourage line dancing, two stepping, Cotton Eye Joe, and much more.
Meet and Greet- Western Characters will greet, welcome and mingle with participants, pose for pictures, and delight all attendees. Authentic REAL Multi-Talented Cowboys and sassy Saloon Girls will fill your event with genuine Wild West atmosphere with a fun interactive activity.
Colorado Mountain Man - "Red Tail" is an authentic Colorado mountain man, who can spin yarns about what life in the mountains was like over 100 years ago. Dressed in furs and skins made by his own hands he is accompanied by his burro and his friendly wolf. He comes loaded with skins, traps, and an old flintlock rifle that accompany all the tall mountain tales. Red Tail is the perfect addition to any party.
Quick Draw Cowboys – Two cowboys will compete against each other and see who is the fastest in the west to pop the balloon in our cowboy cut outs. The cut outs, have electronics that when activated, have a start light on and a win light activated by the first balloon pop.
Roller Ropers - The Roller Roper event is a fun and challenging activity where participants attempt to throw a lasso over the head of a mechanical steer from the saddle of a mechanical horse.
Old West Photo Shoot - The OLD WEST PHOTO SHOOT is a great way for your guests to get a real taste of the Old West. The partygoers dress in authentic western era attire that fits over the clothes they are wearing, making costume changes quick and easy. Our pictures are an old fashioned looking 4 X 5 sepia print enclosed in a western style picture holder. We utilize instant technology, which makes development time thirty seconds. Alpine Events LLC provides all the necessary equipment including a period attired photographer, photographic assistant, props, costumes, cameras and lights.
Trick Ropers - Cowboys demonstrate and teach the fine art of twirling a rope and roping a steer. A hands on experience! and most complete pack.
Mechanical Rodeo Bull Ride - The most original bucking bronco you have ever seen. The mechanical ride is encased in an inflatable ring. All the fun of the exciting ride with the security of a safe inflatable to land in. 19' diameter x 10' High.
Wild West Shoot Out - Suddenly in the middle of all the festivities, Real Nasty Bad Guys with bandanas over their faces ride up and/or barge in with guns blazing and attempt to rob the crowd. As the screams of the Saloon Girls fill the air, the Dashing, Heroic Marshall arrives, hostages are taken, and in the end, good triumphs over stupidity.