Carnival / Circus
Let your guests experience the fun and fantasy of an old fashioned carnival complete with midway games, unique interactive entertainment and a complete decor package to enhance this exciting theme idea.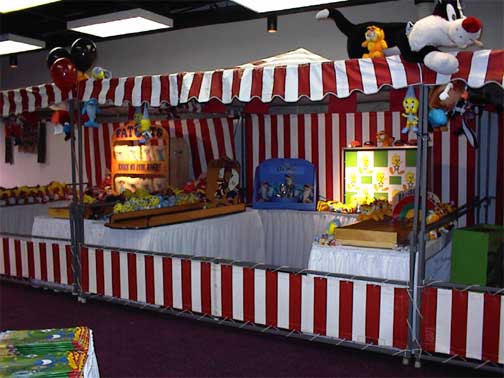 The fun starts thru carnival gates that are a burst of color with balloon swirls, tall columns with bright floral toppers and fun clown cutouts characters that all help create the start of the carnival fun.
Once inside, bright midway game booths abound with colorful prizes and tall balloon clusters around the perimeter will enhance the overall effect. Great interactive entertainers such as jugglers, stilt walkers and even a truly dazzling glow man / fire juggler extravaganza. Have your fortune told by a gypsy or a creative clown can paint your face while other guests enjoy themed buffets and lively background music from a disc jockey who can interact with the crowd and can lead audience participation events during the evening.
This theme can be enhanced with colorful bright table linens, whimsical centerpieces of Gerber daisies, balloons and penny candy scattered about, bright stage back options and lighting packages.
So bring the family and enjoy the day at a truly wonderful Carnival theme with all the sights, sounds and fun one event can handle. Let Alpine Events design this event package for you with custom enhancements for any season and whether inside or outside venues.
Fortune Teller Carnival Enhancements Options:
Entertainment – Sample List
DJ, Karaoke and Bands
Juggler
Unicycle Juggler
Comic Gypsy Fortune Teller Booth
Face Painter
Balloon Artist
Silt Walkers
Glow Man /Fire Juggler
TRAIN (trackless)
Costume Character –Sample List
Harry Potter, Dumbledor (wizard), Hagard on Slits
Scooby Do and Shaggy
Twit Bird and Sylvester or Tiger and Pooh or Cookie Monster, Big Bird, Cat N Hat……and more
Willie Wonker and Oompa Loompas – Lord or Rings – Pirate (depending on what movies have come out)