Christmas Holiday Party
Featuring events across Colorado, we can provide both traditional Holiday parties and contemporary themes for a party everyone is sure to love.
Get ready for the holiday season with these easy Christmas Party Ideas. You'll love these tips for fun parties, such as Casino Parties, Photo Booths, Djs, Karaoke, Old Time Photos, Magicians, Hypnosis or Mentalist, Murder Mystery Show, Party Bands, Kids Activities and so much more!
Whether you are on the Front Range in Denver, or in the mountains of Vail, Breckenridge, Keystone and Copper we can provide you with a theme party for the holidays!
Bring the traditions of the holiday season to your special event with Alpine Events holiday galas and events. We can offer many different decor and entertainment options that accommodate most budget range.
Set up casino games
Having a few professionally staffed tables of blackjack, craps, and poker can be an excellent way to ramp up excitement after dinner. We provide a players card to each guest when they arrive to start the night off and at the end of the night guests cash in for raffle tickets to winning prizes. What a fun new angle on company gift giving!
Let guests reveal their inner super powers - Photo & Video Stations
Almost nothing breaks the ice as quickly as masks and costumes. Booking the Newest MOBILE Social Media Photography Unit or our Traditional Photo Booth providing an array of costumes, wigs, and props is a great way to get guests interacting early on. Selfie Stations, Green Screen, PopNoggins, Get Flipped, Virtual Graffiti Wall, Light Painting, and more, which allow guests to go home with a branded photo or video of themselves with their friends and loved ones. We would even be happy to create background themes that mirror your event.
Hiring painters to create art on guest's faces is another great way to let that inner light shine and skip the awkward phase at the beginning of the party. Alpine Events has an elite squad of brush AND airbrush artists who specialize in the discerning tastes of adults in their fancy holiday attire. Don't forget about Santa and his LIVE reindeer or even the Grinch can be added in to highlight either an elegant event or a family style fun night. Other entertainers, fortune tellers, caricatures artists, magicians, theme characters and more....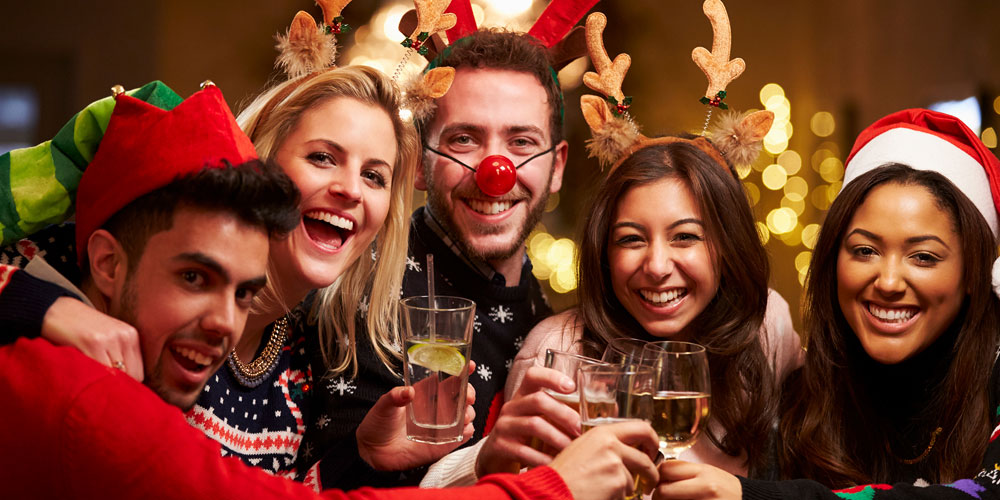 Create rock stars
Why hire the same old DJ, when you can have a DJ who also sets up an "air band" tribute concert starring your guests? Karaoke is intimidating for many. But when the DJ brings an entire band set up, guests who aren't "front man" material can cozy up behind a keyboard or drum set and be part of the performance without the stage fright. Nothing builds camaraderie like being rock stars together!
Game Show
Jeopardy, Bingo, Wheel of Fortune, Family Feud and Sports Bars - Pool Tables, Laser Shooting Gallery, Video Games, Shuffleboard and more...
Build a house this isn't just for kids
We will provided several gingerbread house kits, and let guests form "build teams". This can be a mellow, "do it however you like and take all night" kind of activity, or a competitive high energy event with a time limit and specific criteria. Prizes can be awarded for most creative, ugliest, best engineering, and prettiest. No matter how you decide to run it, teams will love having their picture taken with their finished masterpiece.
Hire an event planner
Planning a company holiday party has a lot of moving parts. There's entertainment, décor, lighting ,catering, seating, venue, gifts, invites, name badges, and a thousand little details. If this is your first time in charge of putting a company event together, it's hard to even know where to start (and tempting to just do whatever was done last year). Event producers have their fingers on the pulse as far as knowing what venues are available, in your budget, and the perfect fit for your group.
If your goal is to actually enjoy your own holiday party this year, Alpine Events is the way to go.
Be sure to give everyone a gift from the company
Think outside the box and avoid giving a cheesy gift with the company logo on it- unless it's a customized bottle of wine! Gift cards, show tickets, and tech accessories are nice alternatives.
Bottom line is make it fun! Hopefully these corporate holiday party ideas will help get your party planning juices flowing- and maybe spark some ideas of your own. Your company holiday party should be a time for everyone to kick back and relax. Make sure you show your employees how much you appreciate the hard work they put in throughout the year. Feeling appreciated is often the best gift of all.