Zip Line Tours
Group Size: 5 to 100
Zip line tours are a fantastic way to see the Colorado Rocky Mountains. Fly high with our zip line outfitters.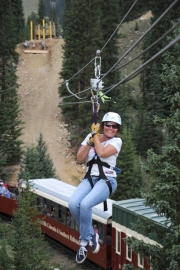 The Prospector Tour
Five dual Zips so riders can fly side-by-side! Length of Zips is 440' to 850'. Plan to spend approximately 2-1/2 hours from check-in at the Base Camp. The first take-off platform is at 11,000 feet of altitude and the entire course is all above 10,000 feet. Guests will travel to "The Top of the World" surrounded by true Rocky Mountain back country splendor and views. Guests do not climb ladders or towers to the take-off platforms. Our flat platforms were handcrafted from trees that were removed along the course for safety reasons. Step up on the deck, take a deep breath of the crisp clean mountain air and just go for it. Step off the platform and glide effortlessly into the adventure of a lifetime.
Top Of The Rockies Zip Line
Top Of The Rockies Zip Line's private 2,000-acre property includes more than fifty old patented gold mines including the Golden Treasure, the Colorado Belle Placer, the General Grant and the Emerald mine. These mines are not operating gold mines, but several of the mineshafts will be visible as guests tour this unspoiled historic area. The area supports abundant wildlife including herds of elk and deer, which might be viewed as they shuttle up more than 1,000 vertical feet from base camp to the take-off spot at a cozy Yurt. Enjoy the spectacular view from the deck before take-off. Friendly certified guides will make sure your tour is safe, enjoyable and informative.
Guests will soar over Big English Creek, vast canyons, waterfalls, alpine meadows dressed in wild flowers, groves of elegant aspens and pine forests. The guides are well informed about the history of mining in this area and will point out several of our gold mine shafts as you soar from platform to platform. Considering the high altitude, the designers have laid out the course with no long hikes, making sure that brief walks are all downhill.
Flyers will soar over the tracks of the historic LEADVILLE COLORADO & SOUTHERN RAILROAD during this special tour time.