Corporate Responsibility & Sense of Community
Group Size: 10 or more
We've added elements to our Team Building Programs that give back to the community.
What better way to get your employees excited. Have them work together on a project that gives back in a social responsible way.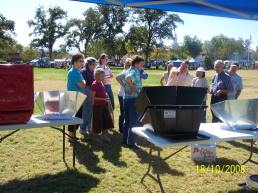 1. Global Solar - A Team adventure where teams have a great time gaining new skills competing in challenges that end in the construction of solar ovens. There are 3rd world countries that suffer from the lack of clean water. Without clean water people are faced with many life threatening diseases. Solar Ovens provide a safe and 100% GREEN process of boiling water. This team building experience will give your employees a feeling of accomplishment knowing they gave families fresh water while working together.
2. Community Outreach- Your team can reach out to the community by building a bike, wooden toy or stuffed animal and donating it to local hospitals, group homes and shelters. They receive the ROI they need by working together while helping children who are less fortunate.
3. Trees, Trails & Trash
Reforestation, plant flowers & trees, build & maintain recreations trails
Urban enhancement, playgrounds & parks development
Collective recycling & trash removal efforts
Develop environmental stewardship & awareness
Get down and dirty while flexing your Green Thumb
4. Kindness Wins! - This team building program is a one-of-a-kind treasure hunt. Teams earn points for committing random acts of kindness at their work place as well out in the community. Participants will experience the power of generosity and compassion. They get back as much as they give...a lesson that surely translates to a better environment back at work.
We are in the process of developing new unique ways to help companies have events that are fun, build cohesion, and make a difference in the world - so stay tuned!