Working Cattle Drives
Group Size: 10 or more
Come and be a part of a western tradition with Colorado's premier horse outfit.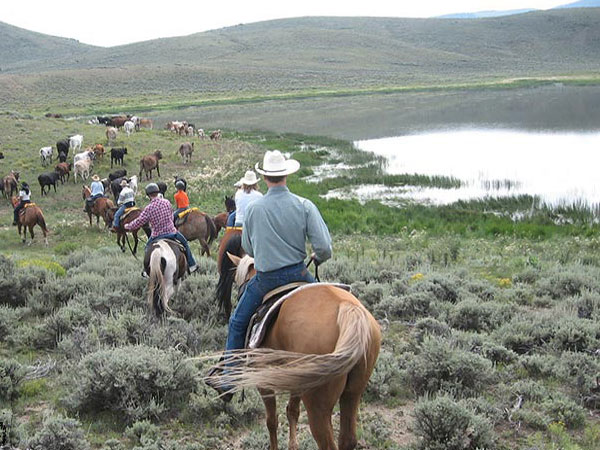 Check in at the Rusty Spurr Ranch headquarters at 8:30 and enjoy a short scenic drive to Cowboy Camp where you will mount up and have a short riding lesson before taking to the hills to gather and drive a herd of cattle on over 10,000 acres of open range. Your group will drive the herd 3 or more miles with a panoramic view of the Gore Range, the Williams Fork Mountains, and the Continental Divide. Riding varies from open sagebrush to aspen and pine-covered hills, but any way you go you are in the Heart of The Rockies. A home cooked western meal awaits your return!
This activity involves 3 _ - 4 hours of riding. We can accommodate up to 20 riders on each Cattle Drive. This activity can be a structured as a team-building event with specific goals, objectives and analysis or simply as an opportunity to have a fun, interactive outing with your staff. For the experienced riders we can customize a cattle drive to meet your needs.
We can tailor a great western experience for groups!