GPS Treasure Hunt
Group Size: 10 or more
Alpine Events moves team building into the modern age with a exciting new satellite based GPS Orienteering event.
Locations: Mountain Resort or Urban Settings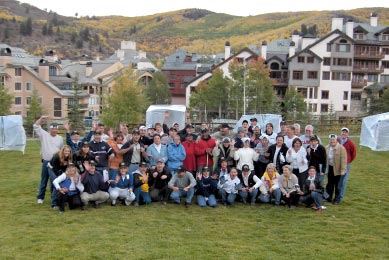 The GPS Treasure Hunt is a fun exciting quest, set in the natural beauty of the Colorado outdoors. We even have themed events for this program that can take you to Survivor Island or other custom "quests".
GPS Treasures Hunt " incorporates GPS (Global Positioning Service) technology with a scavenger hunt for a great day of fun, site seeing and interesting trivia about the area. Colorado has some of the most beautiful and scenic areas in the country. Why not allow your group to experience a true team building while exploring some of the more lovely places we have to offer.

"Treasures of the Area" allows your group to complete tasks, search for clues, put those clues together and actually find buried treasures in and around Mountain Resort, Denver or Boulder area.
This event starts as your group gathers at a designated point. Each team is given a Treasure Map, some money, and a GPS handheld unit. After a fifteen minute lesson on the GPS you are off to explore the area and decipher the treasure map.

Each team has a different set of clues so they go to different areas. They must find new clues as well as perform certain tasks. Each team will also be give some money that will a take them to an additional challenges that they must face. Each clue, task and challenge add to, or subtracts from, their final score total.

The event ends with all teams at the same area, searching for the final treasure together. The first team to find the object, scores big points, but the overall score will determine the winning group.

This program will have your group talking about how much fun they had using the newest technology GPS system and working as a team